Whole Slow Juicer
EVO820 Series
Minimize the prep work and enjoy the fuller and richer taste with Kuvings EVO820. The ultra-efficient Kuvings juicer features low speed masticating technology that extracts maximum juice from fresh produce while preserving nutrients.
3.2" wide two-way feed chute for reduced prep time
The innovative two-way feed chute allows the most efficient way to insert different types of ingredients without jamming
Patented low speed extraction technology
Prevents nutritional loss and minimizes oxidation
BPA free juicing components
Sorbet and smoothie strainer attachment for food versatility.
Special cleaning tool for easy cleaning
Chrome plated, drip free juice spout.
Stylish leather like finish
Made in Korea
| | |
| --- | --- |
| Model Number | EVO820GM, EVO820CG, EVO820RG |
| What's Included | Juicer base, juicing top-set (lid, juicing bowl, auger, juicing strainer, rotation wiper, smart cap), pusher, smoothie strainer, blank strainer, juice cup, pulp cup, pulp strainer, cleaning tool, cleaning brush, round brush, lid opener, manual, and recipe book |
| Dimensions | 8 x 9.5 x19 inches |
| Weight | 16 lbs |
| RPM | 60 rpm |
| Voltage | 120 V, 60 Hz, 240W |
| Materials | Ultem, Tritan, ABS, PC |
| Warranty | 10 Limited Warranty |
Customer Reviews
Write a Review
Ask a Question
Filter Reviews:
juicer
juice
problems
fruit
everything
Breville
juices
foam
life
intake
05/02/2020
Sandra
United States
Totally worthy!!!
From juices to Smoothies to sorbets ......amazing. Today is day 1 for me with this lady. So so easy to operate and so easy to clean. I already used it and I made a green juice that was so perfectly delicious, a smoothie that was slick and yummy and a sorbet that was tasty!! Worth every penny!!! I almost had a panick attack after I clicked "submit order" due to the price, but once I received it (only 2days shipping) and I used it, I am now convinced that it was a good investment that indeed would last yearsssss.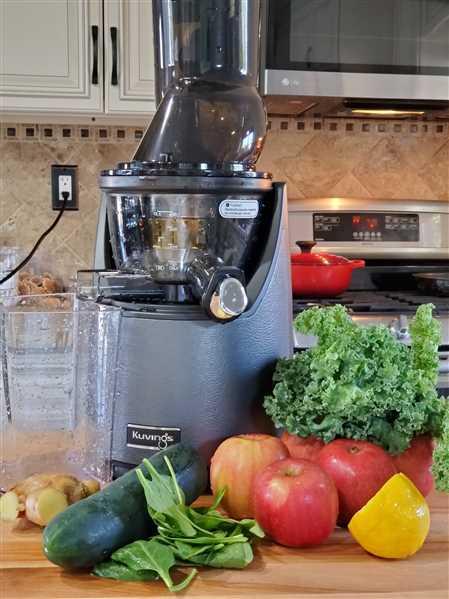 04/27/2020
Carlene .
United States
Just what the Dr. ordered!!!
Kicked started my road to digestive recovery this week with my new EVO820 series. Having been diagnosed with acid reflux 2 years ago changed my relationship with food. Sometimes the challenge of figuring out what to it eat weighs heavy on me considering the many restrictions all just to avoid upsetting my digestive system. But this juicer is about to give me life once again! I know that having the option for healthy nutritional intake via juicing is going to make a BIG difference for me in the long run. Thanks for such a great juicer.
04/23/2020
Yesenia G.
United States
Was so happy until...
Made this purchase Since my local organic store had closed due to the pandemic was very happy to get my mom (65 yrs old) to have her daily dose of fresh cold pressed juice in the morning everything seemed great until I made celery juice (my favorite) also My main reason for my purchase it clogged the juicer!!! So then I stared to cut it in half didn't work so I cut small 1in pieces and still nothing!!! I became frustrated since this was a $650 machine !!! It also happens when I juice leafy greens like spinach help!!!! I juice want my juicer to work :(
We are sorry you are having issues and want to take a closer look so we can better assist you. We have started a ticket(#381174) and sent an email to follow up. Can you please get back to us as soon as possible?
04/22/2020
Santanna c.
United States
Juicer EVO820
Man this juice is thee bomb and would recommend to anyone interested in a real juicer that actually gets the juice out of fruits and vegetables. My last juicer produced alot of foam and gave me disappointment but this juicer right here ugh it gave me life I LOOOOOOVE IT. It's easy to use and clean and easy to assemble. I haven't had any problems. I'm glad I made the right investment on this juicer.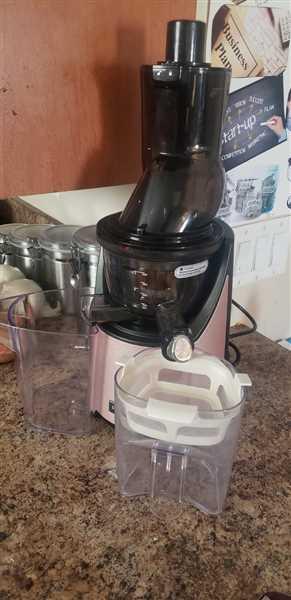 04/07/2020
Zachary B.
United States
Awesome machine!
Live it and highly recommend! This thing chews up everything and makes great juice. Cleaning is easy to do .